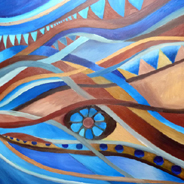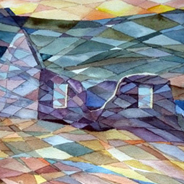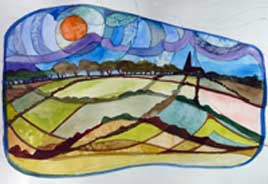 LATEST......work being exhibited in gallery in London at 'The Lovers Lights Gallery'. in Twickenham which is a beautiful craft gallery on 'The Green', ...also my visual diary will be featured in the 'Artist and Illustrators Magasine' in the January issue (on sale in December).
Born in Poole, Dorset, I gained a degree in textiles from Farnham College of art and then PGATC at University of Wales Cardiff. I taught at a private school in Bournemouth before marrying and moving to Wales in 1982. I worked from my studio in Cowbridge for 5 years making patchwork wall hanging and painting while exhibiting wherever I could. In 1992 I moved to Pembrokeshire and was unfortunately widowed in 1993. I eventually settled and remarried in 1997. Since then I have been able to concentrate on my own work and putting roots down in Pembrokeshire. I have been teaching adults art for pleasure in Fishguard since 1995 and have not looked back. I really enjoy introducing others to painting and drawing.
My paintings take me on a journey from one subject to another and I often use different media. I cannot say I have a favourite medium except the medium I use at the moment. The Textile influence can be seen throughout my work in my use of colour and tonal values. In the Kaleidoscope series I divide the images up and mix lots of different shades and tones of the same colour to somehow try to capture the light of Pembrokeshire. Shadows are also an obsession for me as the colours are transformed into a myriad of mysterious dark tones. Living here in north Pembrokeshire gives me an endless supply of inspiration with its wildness and intensity of light and colour. I have now been living here for 20 years and the local people have been a constant inspiration and support for me over the years. I have been painting portraits of local people and have displayed them at my rogues gallery in Llanrhian village hall , Work is also displayed at the Old Youth Hostel, Trefin and at 'The Mill Gallery' Trefin. Since being diagnosed with breast cancer i have been painting a visual diary of my journey, see VISUAL DIARY PAGE.
I have exhibited widely including at the RI Exhibition, Mall Galleries, London, the Commonwealth Textile Exhibition, London and Edinburgh and have won many prizes for my paintings and textile work including at the national eisteddfod. My work has been included in the book Pembrokeshire - look upon the land and sea and twice featured in Pembrokeshire Life magazine. My work is in many private collections worldwide and had work purchased by the Arton Galllery, Kyoto, Japan
My other projects have included a logo for Ysgol Glannau Gwaun, a design for a balcony made by a local blacksmith and a commission for a book cover for Margeret Burnett MBE. In weaving I designed and made an ikat warp (hand tie-dyed) at the Museum of Welsh Woollen Industry, Drefach Felindre in 1995 and 96. I have only recently got around to getting the warp woven in Trefin by Jackie Maddocks. I have also just had some of my work published in the book International Contemporary Artists by ICA publishing, Lexington Avenue, New York.